Maximum 95 entries per person
Live draw
20th June 2022 @ 8:30 PM
Angling technics microcat hd bait boat
Draw will be sooner when all entries are sold!
ONLY £1.99 PER ENTRY
MAX 850 ENTRIES
MAX 95 PER PERSON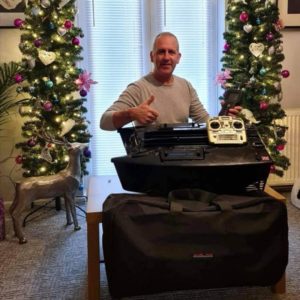 Angling Technics Microcat HD Bait Boat
Angling Technics Microcat HD Bait Boat has been developed to include a number of new changes to the previous Microcat bait boats.
Angling Technics has changed from the water jet propulsion to a propeller design and have added a controllable spotlight at the front of the bait boat so that it aids visibility after dark.
The shape of the hull has been altered so that the bait boat will sit higher in the water allowing the hoppers to sit well clear of the water, this makes the bait and rig release easier.
The Angling Technics Microcat HD Bait Boat is supplied with Heavy Duty 12 Ah batteries which give a continuous running time in excess of 2 hours and makes them 10% or more faster across the water than any previous microcat bait boat.
The Angling Technics Microcat HD Bait Boat carries a similar amount of bait as previous Microcat bait boats and works by a 2.4Ghz radio system, the batteries in the handset will operate the boat for well over 24 hours and they do not need rechargeable batteries.
Specifications
2.4 Ghz FM 4 channel radio system – less interference and no more clashing with other users.
Two ultrasonic sealed zero maintenance motors – fast, efficient, and quiet.
Excellent for all baits including particles as the boat sits higher thus there is plenty of clearance between the hoppers and the water level.
The two hoppers can be individually or simultaneously opened
Microprocessor controlled variable speed in forward and reverse – spins on it's own axis
Six ultra high intensity LED's including blue, white, red and green – and a spotlight for visible range, even in daytime
Remote lighting control – control the lighting at range
Removable battery system – change the batteries
Hydro dynamically efficient and stable catamaran hull – 3D CAD designed
Echo sounder acceptable: Yes
Size: 690mm x 370 mm x 220mm
Weight: 9kg – HD batteries (approx.)
Running time (at max speed): 120 + minutes – HD batteries (not suitable for STD batteries)
The boat has no external boat aerial – as it is mounted internally
The boat is supplied with a "standard" boat bag
Updates and live draws will be available on our Facebook page. On entering the competition / placing your order you will receive your ticket numbers via email. The live draw takes place on the 20th June 2022 on Facebook. To enter for free, please see our terms & conditions
If entering our competitions either by post or online please ensure you have read and agree to our terms and conditions, if your entries do not comply with the terms they will not be included in the draw. Please note you must sign up for an account before making your entry! Entries without an account cannot be processed. You must add your billing address to your account in order for your entries to be processed.
You can watch the draw LIVE on Facebook. We will also be posting updates on this competition and future competitions on the page so make sure you are following and our posts are set to show at the top of your newsfeed!
How do I get my number?
After completion of payment, your number(s) will be displayed. They will also be e-mailed to you, and will be available under My Account.
How are the prizes drawn?
The draw is done live on Facebook using a random number generator to determine the winner.
When does the draw take place?
The live draw will take place on 20th June 2022. If all the entries are sold sooner the draw will be brought forward. Keep updated on the confirmed draw date via our Facebook page and website.