Maximum 15 entries per person
Live draw
21st February 2022 @ 8:30 PM
Trakker defy landing net
Instant Win £10 site credit – find numbers 7,13,73,106,134
Draw will be sooner when all entries are sold!
ONLY £1.99 PER ENTRY
MAX 159 ENTRIES
MAX 15 PER PERSON
Adam won the last Trakker Defy and wasted no time getting it wet!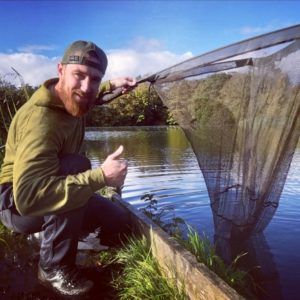 Highly manoeuvrable, and now in a two-piece for a more compact pack down size, this features a very distinctive 'reverse-carbon' finish. Compliments the range perfectly!
Features
Two-piece 6ft handle
Distinctive 'reverse-carbon' finish
Machined aluminium spreader block
Gunsmoke anodised fittings
Japanese shrink wrap grip
Reinforced deep olive mesh
Subtle black graphics
Compliments defy rod range
Supplied with drawcord
Updates and live draws will be available on our Facebook page. On entering the competition / placing your order you will receive your ticket numbers via email. The live draw takes place on the 21st February 2022 on Facebook. To enter for free, please see our terms & conditions
If entering our competitions either by post or online please ensure you have read and agree to our terms and conditions, if your entries do not comply with the terms they will not be included in the draw. Please note you must sign up for an account before making your entry! Entries without an account cannot be processed. You must add your billing address to your account in order for your entries to be processed.
You can watch the draw LIVE on Facebook. We will also be posting updates on this competition and future competitions on the page so make sure you are following and our posts are set to show at the top of your newsfeed!
How do I get my number?
After completion of payment, your number(s) will be displayed. They will also be e-mailed to you, and will be available under My Account.
How are the prizes drawn?
The draw is done live on Facebook using a random number generator to determine the winner.
When does the draw take place?
The live draw will take place on 21st February 2022. If all the entries are sold sooner the draw will be brought forward. Keep updated on the confirmed draw date via our Facebook page and website.